Gypsy-Flamenco Night
March 29, 2020 05:00 PM until March 29, 2020 08:30 PM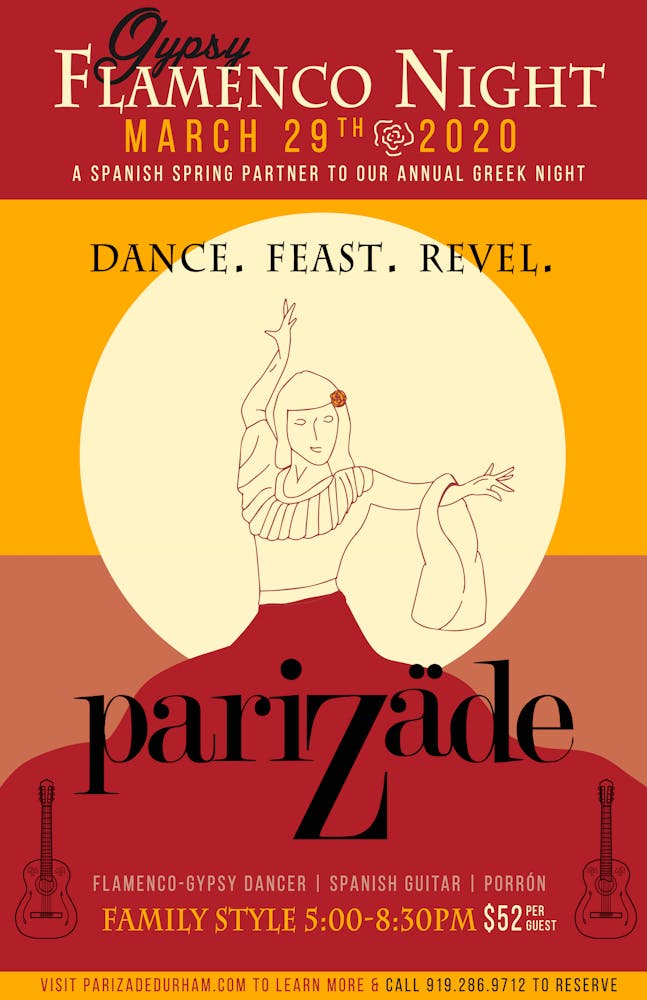 Parizade's Ode to the Spanish Spring
Gypsy-Flamenco Night returns on Sunday, March 29th!

Join us for a Spanish feast like no other to welcome La Primavera featuring Spanish guitarists, Gypsy-Flamenco dancers, fortune tellers, porrón pours, and a decadent tapas buffet inspired by the flavors and cooking techniques of Spain!

The buffet will be packed to the brim with mouthwatering dishes from 5:00 - 8:30 pm, but the dancing and laughter of the celebration goes on all night long! View the buffet menu below.

Tickets for the evening are $52 per guest. Make your reservations for this incredible evening early online or by calling 919.286.9712.
*Reservations for this event are $52 per guest (plus tax and gratuity) and must be made in advance by calling (919) 286-9712 or visiting https://www.parizadedurham.com/ and requesting "GYPSY FLAMENCO" in the notes.